Making the decision to buy a motorhome and motorhome insurance is very exciting as it's the gateway to a new life of taking to the road and exploring the world. It's crucial however to be aware of what you need to look for when viewing vehicles you may want to buy – especially if they are used rather than new.
After spending many weeks or possibly months researching the style and size of motorhome you feel best fits your needs, heading off with cash available to make a purchase is a great feeling as it's the culmination of a great deal of thought and work coming to fruition. It's also a time to remain calm and sensible and not buy through impulse without checking a number of areas first such as
Legal ownership
Damp levels
Overall condition
How payment will be made
Always remember that if a motorhome doesn't look, feel or sound 100% right for you – in any way at all – walk away as there are many others to choose from.
Legal ownership
Knowing the person you're buying from is the legal owner is the first area to confirm before you've even looked inside.
Start with the V5 registration document. The name and address should match the location you're buying from. Don't view in carparks with a view to handing over money there and then; you need to know the person you're buying from is who has the right to sell.
When examining the registration paperwork, check out the following:
Model/type/taxation class details; avoid any discrepancies which could indicate it has changed in some way over the years
Look for the words 'Private HGV'; if it indicates this and the weight is over 3.85 tonnes then it has been classified for certain drivers only – those who have diabetes or are over 70 for example would be prohibited from driving this motorhome
When you're satisfied the registration documents are in order, look at the other documentation available. A careful motorhome owner will look after their paperwork and whilst not an absolute indication of reliability and honesty, is an element to bear in mind when looking at the overall picture.
Damp levels
Before looking at the mechanical aspects of the motorhome, it's best to look for any damp.
Damp in a motorhome can be very expensive and time consuming to fix so you need to know before buying if you're letting yourself in for issues.
When looking inside you may know instantly there is damp issue as there could be discolouration to the ceiling and a distinctive smell. Open doors and cupboards and look inside for visible stains such as water marks. Realising there is a great deal of damp is not always immediate though so using a damp meter is a good idea. They are inexpensive and you must check all areas including the ceiling, walls, floors, windows, roof vents and around the wheel arches. If you're not sure of how to carry out this job, bring along a professional; it really is this important.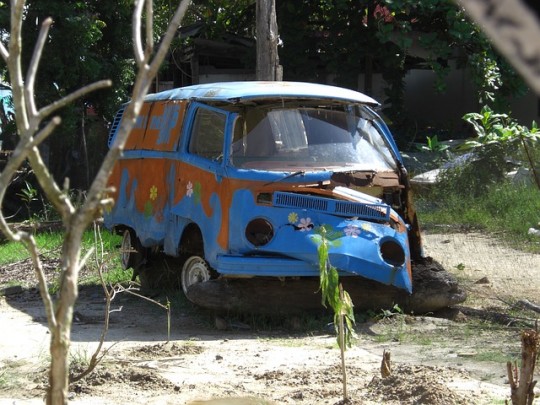 Overall condition
It's then time to look at the overall condition of the motorhome. You'll need to pay attention to:
The exterior
The interior
Doors and windows
Gas and electrics
Fitted equipment
The mechanical condition
Chassis and running gear
When looking at the outside of a used motorhome, look for visible damage such as dents, scrapes and breaks in the surface of panels or the shell if it's a monocoque design. Look closely at sealants as they should be replaced every 5-10 years depending on the type. Resealing can be quite expensive so look closely even though it may seem like a small aspect of the vehicle.
Look for sun damage, any poorly fitted locks or handles which don't work correctly; also check electronics such as the electric step if it has one.
As well as damp, have a good look at the overall interior condition such as the upholstery; wear and tear could mean it's had heavier use than you are being told.
The door should be water tight and look for any condensation trapped in any double glazed windows. Any deficiencies could mean damp encroaching and if it's a van of some age, replacement parts may not be readily available.
Always check the gas and electric as well as the plumbing. This is to safeguard your own health and safety and if you aren't au fait with utilities a professional will inspect to give you peace of mind.
The checking of fitted equipment should be part of a pre-delivery check if you're buying from a dealer. If you're buying privately you'll need to carry this job out yourself. The items to inspect are the hob, oven and grill as well as any spark ignition systems. Test the leads to the battery but leave any socket testing to a qualified electrician. Turn on all the taps; you need to see that the water pump is operating fully and when you're in the washroom look at the condition of the mastic seal around the shower in case it has deteriorated and in turn leaking water into the motorhome floor.
Mechanically, it's about the transmission, brakes, engine and radiators. Walk away from any with leaks; in particular if it's an automatic model. Listen to the engine when running and look for smoking exhaust fumes.
The last major area to look at is the chassis and running gear. Take a few minutes to look thoroughly at the chassis, hitch and suspension. Rust on a chassis isn't a good thing to see and also if you can see fresh paint then this could be a sign that recent cover-up work has taken place. The jockey  wheel should move with ease and the rubber gaiter on the hitch should show no signs of wear.
Payment method
The main message when making payment is to be wise; be sure you know who you are buying from and never part with cash on the promise of a delivery a few days later if it's a private sale. HPI check for any records of outstanding finance or accidents and always get a receipt.
Whilst it may sound as if buying a used motorhome is going to be difficult with so many aspects to consider, it's really about being level-headed and sensible. If you've saved hard to buy your dream vehicle you really need to know you're buying exactly what you've seen advertised.
Once you're happy with your choice, it performs well in the test drive and you've completed payment, it's time to drive it home for the first of many new adventures. Organise motorhome insurance from the day you finalise the sale so you're immediately road legal by comparing motorhome insurance here and you'll then be ready to pack your belongings and head off to pastures new for as long or as short a time as your heart desires.