Back in the 1960s, motorhomes were basic vehicles with a sparse interior. They had a simple remit; to provide somewhere to sleep and perhaps cook but nothing more than that.
Roll the clock forward nearly 50 years and the needs of the motorhome buyer are much more specific; comfort and convenience are the words at the top of the wish list of many buyers. A motorhome is now literally a home on wheels and designers have to respond to the needs of the market if they want to be seen as a leading manufacturer in what is a very busy market.
Here then are the top 10 trends for must-have features in a new motorhome in 2015.
1. Increasing size of under garage
The use of extra transport is now an everyday part of using a mobile home. Having access to bikes on the back of the vehicle is no longer what it's all about; travelling around when not in the motorhome means the use of mopeds, quad bikes and even small cars. Under garage areas are increasing in size year on year and 2015 sees spaces so large they can accommodate a full-size car which would in the past have been towed.
2. Low profile design
Sleek and ergonomic lines are the keywords for the design teams of motorhomes. Modern motorhomes are now all about providing the most streamlined options available in the outer body shell to enhance speed and increase fuel consumption efficiency. Gone are the previously favoured overhanging cabs of the 1980s and 1990s which only slow the motorhome down; the current trend is for as little wind resistance as possible in the body shape. Beds which would have been over the cab are now more likely to be a drop down design which maximises the living space. Those with a curving skylight above the cab are particularly sought after as they let in more natural light than ever before.
3. Rolling doors
Continuing the need for sleek lines and accessibility comes the innovation of the use of rolling cabinet doors. Known as tambour door roller shutters, they are now being included in kitchen and bedroom areas of motorhomes and many existing motorhome owners are looking at retro fit options. Tambours save space, are lightweight and as they can't swing open pose no danger whilst driving. Often supplied in grey as the standard colour, they are also available to order in a range of shades to suit any décor.
4. Storage solutions
With more people changing their holiday habits, the 'staycation' is becoming a popular option rather than paying for flights and hotel holidays. This shift change correlates to the number of motorhomes being sold and the requests for the interior to be as homely as possible and for more storage space availability are higher than ever before.
Clever solutions include tables which lower into the floor, beds which store at ceiling height, flip-up sinks, under bed cupboards and sliding kitchen spacesaver racks.
5. Functional but feels like home
Motorhomes until the 1990s were seen as a functional vehicle. There was provision of somewhere to sleep, eat, long cupboards with no thought of use put into them and if the vehicle large enough, a place to have a bathroom and toilet. Other than that, there were few luxuries but this has all changed.
Motorhomes in 2015 have to be packed full of homely features to catch the eye of the buyer as well as offering the basics of life within a reliable vehicle. It's a competitive market and every small element of making the space feel like home counts. Examples are the inclusion of the supply of wine glasses which clip into a bespoke hanging rack, hidden sofa shelves which enclose USB ports for laptops and smartphones, under floor laundry baskets, soft close drawers with locks for travel and even drop down coffee machines.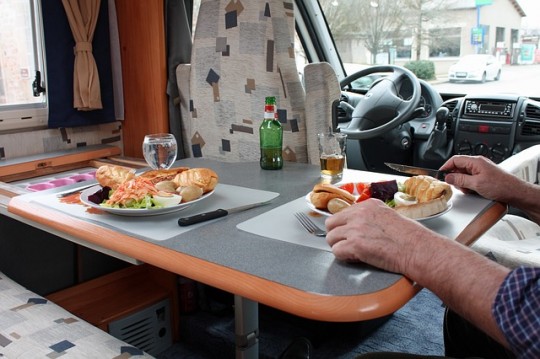 6. Solar as standard
Renewable energy is part of the lives of everyone whether they are on the road or at home and in the past, power was provided through on-board leisure batteries and a generator. Solar panels can now be installed as standard onto the roof and with advances in technology the panels themselves aren't rigid – they are flexible and so are flush to the outer shell of the vehicle. This is a leap forward for those wanting to help the environment and save money on power use as options for solar were limited in the past due to weight limitations on the roof.
7. High gloss cabinetry
Bling is very in this year when it comes to motorhome interiors. Monochrome and high gloss sit alongside each other with cabinets no longer being a dull wood veneer. Cupboards are highly polished and have downlighters as accents to really show the intensity of the shine. There's lots of black and white but it's definitely not seen as monotone.
8. Smartphone apps
Technology already plays a big part in the daily use of a motorhome; GPS systems specifically for recreational vehicles and reversing cameras are pretty much standard use now.
Where science fiction has become reality though is the introduction of smartphone apps to control certain elements of life on the road. There are now apps which map out where there are wild camping spots ahead, places to empty waste cassettes and even one which will tell you when you're level when you arrive at a campsite. About to launch are apps which will offer an onboard water management system, one which will change clear glass to frosted and a finger scanner to lock and unlock the motorhome doors.
9. Separate full size shower
If 25 years ago a shower was seen as the ultimate luxury item in a motorhome, the equivalent in 2015 is a full size separate shower.
Whilst the first shower units were seen as liberating and meant the end to using campsite or service station facilities, they were basic. Designs were either a simple hand-held shower head within the toilet and sink area which resulted in a very wet bathroom, or a separate but incredibly cramped shower area where it was pretty much impossible for the vast majority of owners to use the feature with ease.
Bathroom space is now very much high on the agenda for motorhome interior designers and layouts are being shifted accordingly to accommodate larger bathrooms. End washrooms are now very popular as they stretch the whole width of the motorhome and there are some models where the change of direction of the door can create an en-suite bathroom enclosed in the sleeping area which gives extra privacy.
10. Slide outs on European models
Slide outs have always been part of the American RV market to increase living space. European models have, on the whole stayed away from this design element – until now.
With more space being required but the requirement for the vehicle to remain the same size, a number of European motorhome companies are now introducing single or even double slide outs. The reason that motorhomes built in the UK and Europe have never included slide outs is because they have always been built on a van or light truck chassis so payload has been an issue. With the advances in engineering however and the merging of styles with the truck chassis American RV models, slide outs are now available and are set to be one of the major buying points of 2015.
Each year brings new innovation in the motorhome market and the trade shows display their latest models with excitement and pride as prospective buyers push buttons, swivel in seats and test out bed set ups.  This year though is one where there are some real changes being seen in vehicle engineering and availability of new features. It is pretty much a certainty that 2015 will go down in motorhome history as the year a new generation of recreational vehicle was born.
Side Note : Please remember to have appropriate motorhome insurance cover before using your motorhome.