Fixed top or high roof campervans?
Buying a campervan means making considered decisions regarding the amount of living space available. The greatest advantage to buying a campervan is that they are easy to drive and park and can be utilised much more than a motorhome as a day to day vehicle. With this plus point though comes the limitation of overall space to live, cook and sleep.
The solution for those who want a smaller vehicle to take holidays in but feel cramped inside with a standard fixed roof is to opt for a model with a high roof. Here's a guide to each style which will help you to choose what is right for you.
Fixed top
A fixed top campervan is a vehicle with no modifications to the roof. It is the most basic design on the market and is a good option for those with a small budget who are looking to buy their first van to try the road trip lifestyle.
Buying a fixed top campervan means having a vehicle compact enough to park in a garage between trips. They are competitively priced as there is a move to more owners wanting a high top. This means if headroom isn't too much of an issue there are some fantastic bargains to be found.
The downside to a fixed top is that headroom is very limited to many adults. It can mean moving around can mean stooping to some degree and this can mean cooking and making up a bed can be challenging.
There are other benefits though to a fixed top; the insulation is usually very good as the roof is still in one section and there are no height restrictions to consider when parking or travelling on toll roads if on holiday in places such as mainland Europe.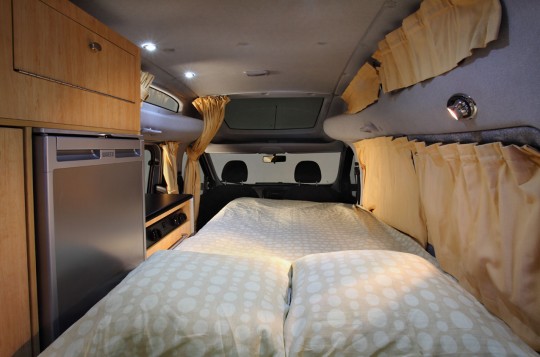 High roof
The high roof campervan is an ever-increasing popular choice. New vehicles are fitted with one almost as standard and they improve headroom immensely. Some innovative engineering and design also mean that there's the option to have a small bedroom area in the roof space; great for taking children away without the need for a large motorhome.
The van roof space increases through a pop-up system. Trends are now pointing towards many more low profile models being launched so the extra room is an added bonus over the fixed roof option.
Just as convenient to use for a day vehicle, the roof is often made of solid metal. Something to look out for in older models would be any gaps in the concertina fabric sides of the mechanism. Options are varied with back, front and side-rising roofs. A consideration to make though is that they aren't as well insulated and heat retention is much less than a fixed roof so if you're going to make winter trips then you may need extra bedding for chilly nights.
When viewing a high roof camper, test the roof for any leaks in both the open and closed position. Also inspect the mechanism which raises and lowers the roof for damage or fatigue.
Whether you choose a fixed roof or a high roof for your campervan, ensure when you buy you have campervan insurance before you take to the road. Pack innovatively with products designed for small living areas and when Friday comes, pop an overnight bag in for each passenger and head off on a mystery trip for the weekend. The beauty of a campervan – whatever the design of roof – is that you can take it anywhere at any time and discover a whole new world within just a few short miles.